Kelly Foster has over 30 years of experience riding, training and competing horses. Kelly started riding at the age of four. By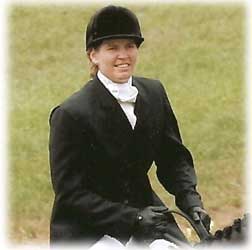 the time she was ten, she owned her first pony and was showing in the local hunter/jumper shows. At the age of twelve, Kelly was introduced to the sport of eventing and this became her main focus.
Since then she has ridden up to the Advanced level and ridden in several * and ** three day events. Along the way she has had the opportunity to train with such horseman as Jack LeGoff (former USET Event Team coach), Denny Emerson, Lucinda Green, Virginia Holgate, Wash Bishop, Tad Coffin, Jane Savoie, Shelly Francis, Nancy Smith, Lois Heyerdahl, Suzi Gornall, Jane Hamlin and Joe Forest to name a few. Kelly also became a serious dressage student using this as her basis for all her training. She has shown in dressage shows to the third level.
Her Horses
Kelly has started and trained quite a number of horses. With her more advanced horses she has earned some significant awards and recognition. Her thoroughbred mare Shawmut was a USCTA Area 1 Training Champion and had qualified for the championships 4 consecutive years. She was also a Zone 1 AHSA Training Champion. Due to the success in Young Riders on her mount Copper Spiral she was invited to a training session with the U.S. team coach Jack LeGoff at USET. Trek her Dutch Warmblood Thoroughbred cross qualified for the DeBroke Trophy and was Zone IV Intermediate Reserved Champion for the AHSA. Kelly als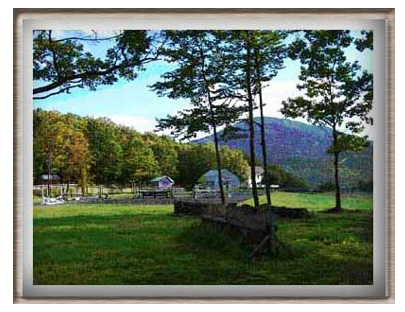 o qualified her home bred Hanoverian Thoroughbred mare, Greyfell Sovran for the DeBroke Trophy. Kelly received the Area 1 Training Rider Championship and placed 6th as Training Rider Champion nationally with her two Training Level mounts Gabriel and Ezekiel. She has taken green horses from the just backed stage to competing at various levels in eventing.
She has also taken several students from beginners to competing successfully at the lower levels of eventing both while living in Florida and New England. Her students have said of her that, "I have learned more in one lesson than I have in the last five years of riding," - "I love your lessons. You break it down for us step by step so we understand how it works," - "You always give me confidence".
Fox Penny Farm was started by Kelly and her mom Susan to produce sport horses, whether homebred or purchased from various sources, for the amateur or professional rider to either compete or just enjoy.